White Matter Lesions - Differential diagnosis
Robin Smithuis and Frederik Barkhof
Amsterdam University Medical Center and University College London and Alrijne Hospital Leiderdorp, the Netherlands
Publicationdate
White matter lesions (WMLs) are common findings in MRI examinations of the brain.
They are best seen on T2W- and FLAIR imaging.
WMLs are seen in normal aging and are probably the result of small vessel disease.
It is more frequent in patients with vascular disorders like atherosclerosis, amyloid angiopathy, migraine, CADASIL and vasculitis.
The list of diagnoses is very long and includes besides these vascular disorders also non-vascular disorders like inflammation, infection, toxic and metabolic and also genetic disorders with leukodystrophy.
We will review some of the more common diseases that present with WMLs.
Introduction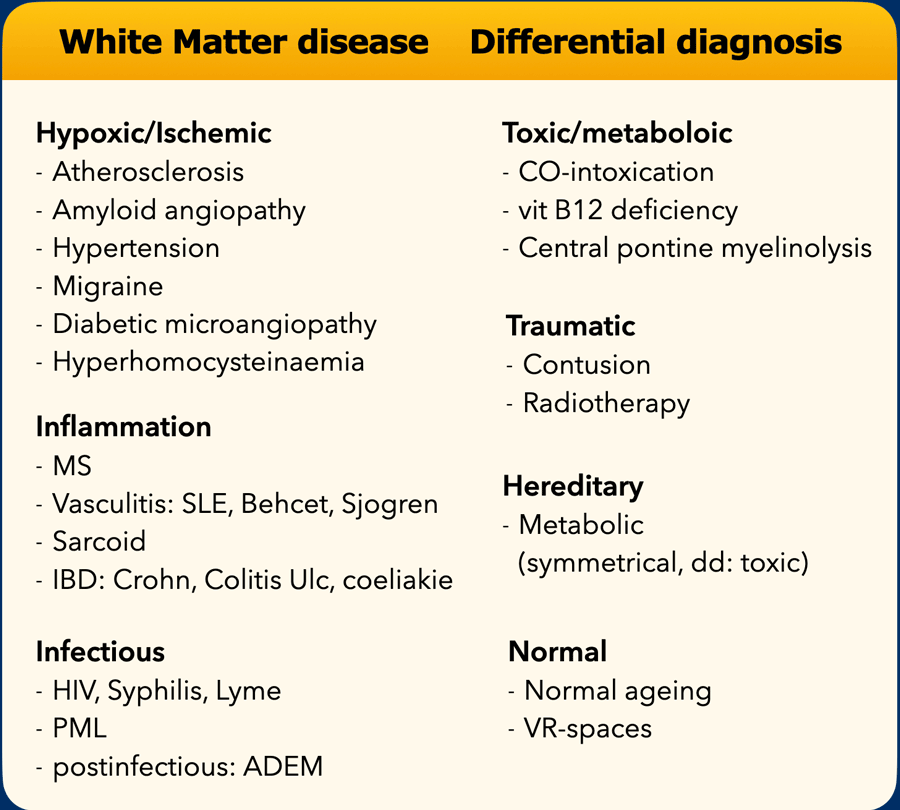 Differential diagnosis
The differential diagnosis of white matter lesions (WMLs) is extremely long (see table).
Here are some statements about WMLs:

Most WMLs are acquired and of hypoxic-ischemic origin.
WMLs are seen in normal aging
The most common inflammatory disease is Multiple Sclerosis.
The most common viral infections are PML and HIV.
Inherited diseases usually will have symmetrical abnormalities, so they have to be differentiated from intoxications.
Only if the clinical findings strongly direct us towards inflammatory, infectious, toxic or other diseases, should we consider these diagnoses.
Suggesting the diagnosis of MS in a patient with WMLs and with no clinical suspicion for MS would be unwise.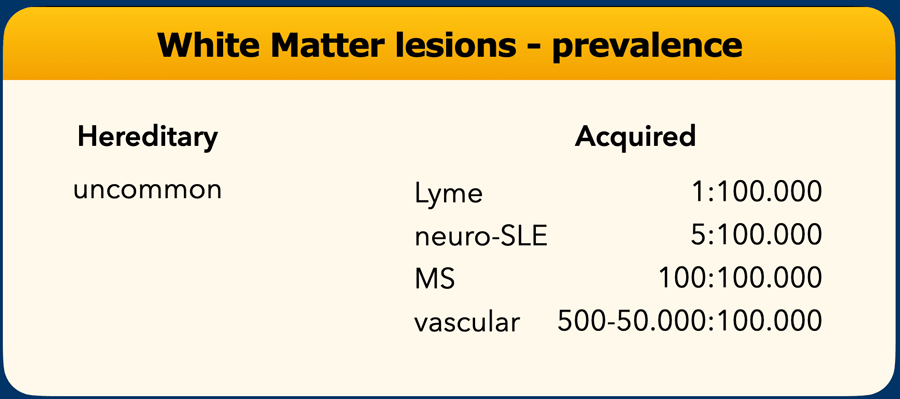 Prevalence
When we look at the prevalence of the white matter diseases, you will notice that there are enormous differences.
When incidental WMLs are found, these are usually the result of small vessel disease, since up to 50% of patients that get an MR examination for whatever reason, will have WMLs of vascular origin.
They are more common in older people and in patients with vascular risk factors like atherosclerosis, high blood pressure, high cholesterol, diabetes, amyloid angiopathy, hyperhomocysteinemia, atrial fibrillation etc.
Hereditary diseases are extremely uncommon as individual diseases, but as a group they are not that uncommon, but still far more uncommon than MS.
If we look at the prevalence of Lyme disease, which is a rather popular disease at the moment, then we will notice that it still is a very uncommon disease despite of all the serological tests that are being performed nowadays.
Imaging findings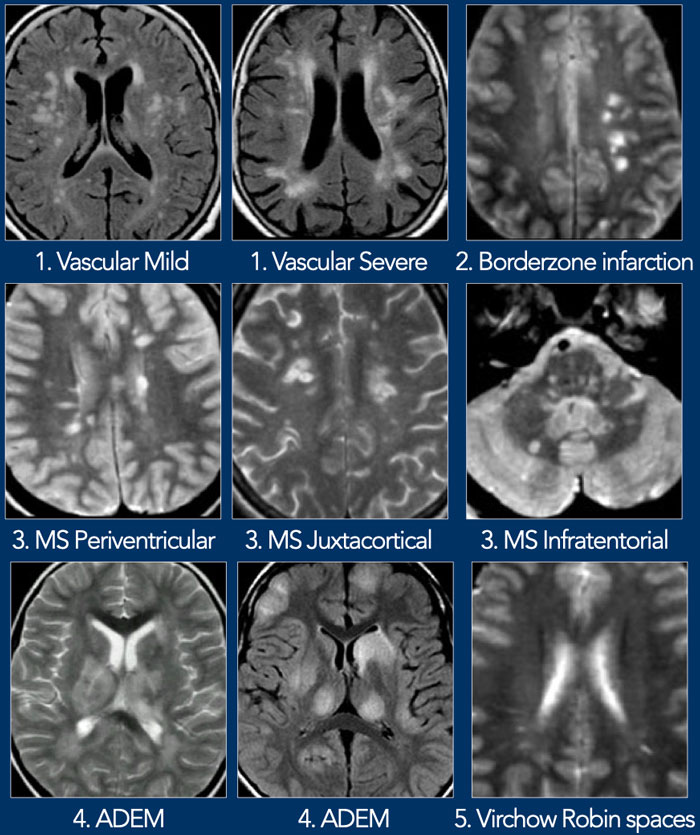 Multiple punctate and patchy lesions
The figure shows a collection of images with multiple punctate and patchy lesions in the WM.


Small vessel disease
WMLs in the deep white matter. Not located in corpus callosum, juxtaventricular or juxtacortical.


Borderzone infarction
Typically these lesions are located in only one hemisphere, either in a deep or peripheral watershed area. In the case on the left the infarctions are in the deep watershed area.


MS
Typical for MS is involvement of corpus callosum, U-fibers, temporal lobes, brainstem, cerebellum and spinal cord.
This pattern of involvement is uncommon in other diseases.
Periventricular lesions must touch the ventricles. Juxtacortical lesions must touch the cortex. Infratentorial lesions are quite common in MS.


ADEM
Multifocal lesions in WM and basal ganglia 10-14 days following infection or vaccination. As in MS, ADEM can involve the spinal cord, U-fibers and corpus callosum and sometimes show enhancement. Different from MS is that the lesions are often large and in a younger age group. The disease is monophasic.


Virchow Robin spaces
Key finding: Bright on T2WI and dark on FLAIR.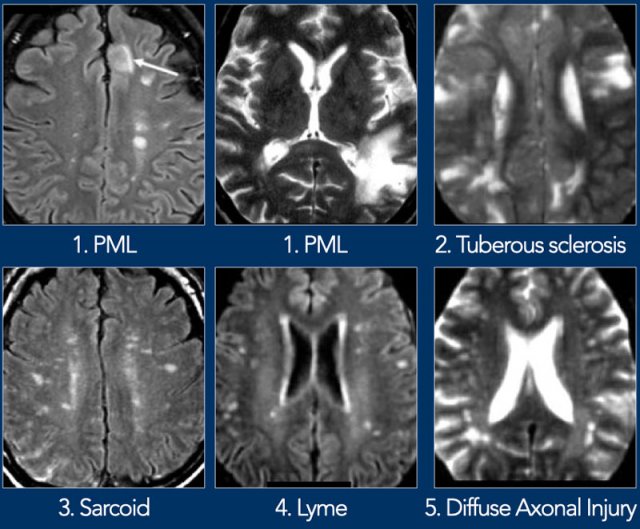 Here some more examples of punctate and patchy white matter lesions.


PML
Progressive Multifocal Leukoencephalopathy is a demyelinating disease caused by JC virus in immunosuppressed patients.
Key finding: space-occupying, nonenhancing WMLs in the U-fibers (unlike HIV or CMV). PML may be unilateral, but more often it is bilateral and asymmetrical.


Tuberous sclerosis

Sarcoid
Sarcoid is the great mimicker. The distribution of lesions is quite similar to MS.


Lyme
2-3mm lesions simulating MS in a patient with skin rash and influenza-like illness. Other findings are high signal in spinal cord and enhancement of CN7 (root entry zone).


Diffuse Axonal Injury
Multiple small lesions in the white matter near the cortex as a result of severe traumatic brain injury with rapid deceleration as in high velocity traffic accidents.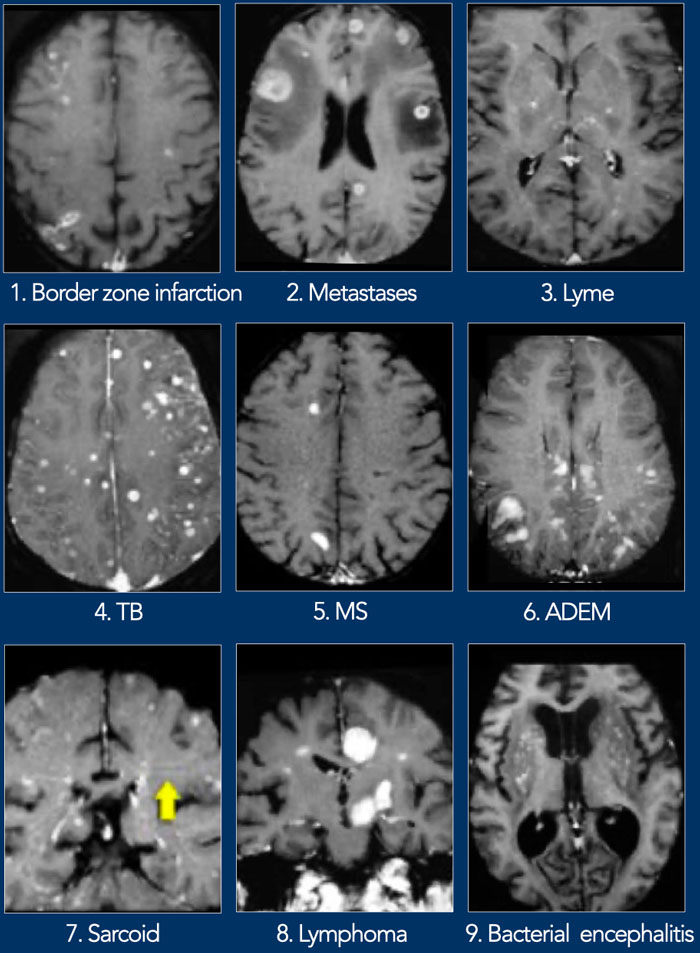 Multiple enhancing lesions
Here a collection of images with multiple enhancing lesions in the white matter.


Borderzone infarction
Peripheral border zone infarctions may enhance in the early phase.


Metastases
Metastases do enhance and are mostly surrounded by edema.


Lyme


TB


MS
Enhancement in MS is seen in new lesions and is only present for a couple of weeks. It is an important finding as it is a sign if dissemination in time which is a hallmark in the diagnosis of MS.


ADEM


Sarcoid


Lymphoma


Bacterial encephalitis


Vasculitis
Most diseases with vasculitis are characterized by punctiform enhancement.
Vasculitis in the brain is seen in SLE, PAN, Behcet, syphilis, Wegener, Sjogren and Primary angiitis of CNS
Behcet
Behcet is more commonly seen in Turkish patients.
Typical findings are brainstem lesions with nodular enhancement in the acute phase
Specific diseases with WMLs