Acute Abdomen in Gynaecology - Ultrasound
Julien Puylaert
Amsterdam UMC and Haaglanden MC, The Hague
Publicationdate
This is a pictorial essay of the various gynaecological conditions that may cause acute abdominal pain, as far as they are encountered in daily radiological practice.
Conditions which present during a known pregnancy like miscarriage, early ectopic pregnancy, uterine rupture and placental abruption, as well as puerperal endometritis, are not included as they belong to the professional terrain of the gynaecologist.
These conditions are rarely seen in the daily radiological practice of acute abdomen.
For critical comments and additional remarks: j.puylaert@gmail.com
Acute gynaecological conditions in pregnancy
Acute conditions in non-Pregnant women
Post Partum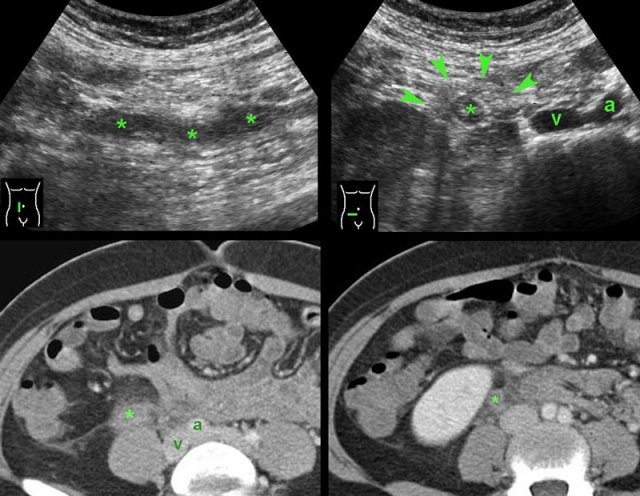 Right ovarian vein thrombosis (*). a and v = iliac artery and vein
Ovarian vein thrombosis

case 1
Four days after delivery this young woman developed pain in the RLQ and a CRP of 125.
At the spot of maximum pain an ill-defined, solid, tubular, hypoechoic structure (*) was seen, surrounded by hyperechoic, non-compressible, inflamed fat (arrowheads).
CT confirmed an ovarian vein thrombosis. The surrounding fat-stranding suggested a concomitant, phlebitis-component.
Complete recovery with antibiotics and anticoagulant therapy.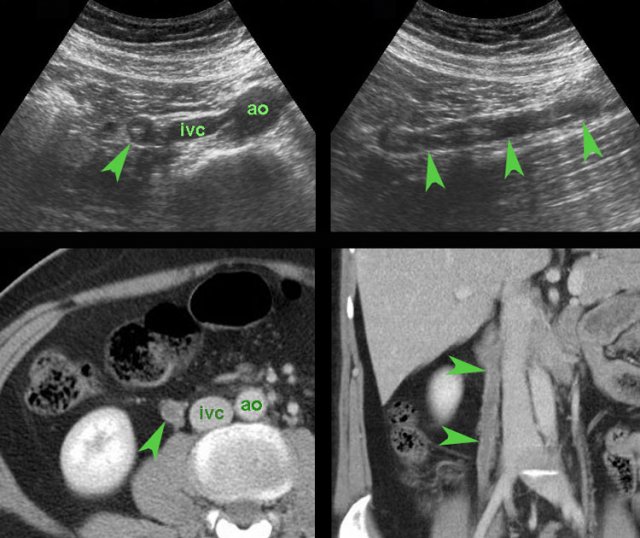 Right ovarian vein thrombosis in patient after hysteroscopic myomectomy.
case 2
This patient presented with RLQ pain 5 days after the procedure.
US demonstrated a thrombus in the right ovarian vein, there was no clear phlebitis component.
CT confirmed a thrombus in the right ovarian vein, without any fat stranding.
CRP remained low.
Complete cure with only anticoagulant therapy.

Epilogue
The author thanks his fellow radiologists and gynaecologists for their valuable help in collecting all the educational material.
A special thanks to gynaecologist Jan Lind, for his advice in editing the manuscript.