Aortic Aneurysm Rupture
CT signs of pending aortic aneurysm rupture
Jay P. Heiken, M.D.
Mallinckrodt Institute of Radiology of the Washington University School of Medicine, St. Louis, Missouri
Publicationdate
This article is based on a presentation given by Jay Heiken and adapted for the Radiology Assistant by Robin Smithuis.
Jay Heiken is professor of radiology with special interest in abdominal imaging and co-author of the well known book 'Computed Body Tomography With Mri Correlation'.
The classical findings in aortic aneurysm rupture are well known.
In this article we will present the more subtle findings of contained leak and pending rupture of aortic aneurysm.
Primary signs of Aortic Aneurysm rupture

Aortic aneurysm rupture is the most important diagnosis you want to be able to exclude in patients with acute abdominal pain especially when they present with back or flank pain.
The primary signs of AAA rupture are periaortic stranding, retroperitoneal hematoma and extravasation of iv. contrast.

LEFT: Subtle periaortic stranding, MIDDLE: Hemorrhage into posterior pararenal and perirenal compartment, RIGHT: Extravasation of iv. contrast
On the left we see three patients with aortic aneurysm rupture.
In the image on the far left we only see a little bit of peripheral soft tissue density adjacent to the aneurysm and indeed this is a sign that this patient is at risk for frank rupture.
The other two cases show retroperitoneal hematoma and contrast leakage outside the aorta, which makes it easier to diagnose.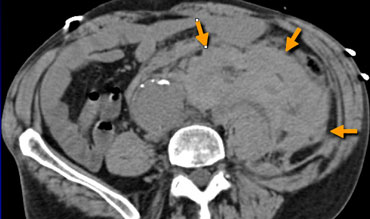 On the left a classical case in a patient with an aneurysm of the abdominal aorta and a large hyperdense retroperitoneal hematoma due to rupture.
The majority of these cases show posterior periaortic hemorrhage and in cases of massive hemorrhage, the posterior pararenal and perirenal compartments are the most frequently involved sites.
Signs of Pending Aneurysm Rupture