Pulsatile and non-pulsatile tinnitus
Ruud Becks, Sjoert Pegge and Anton Meijer
Department of radiology and nuclear medicine, Radboudumc, Nijmegen, the Netherlands
Publicationdate
This article is based on a review by Pegge et al. describing a systematic approach for the diagnostic work-up of tinnitus [1].
The differential diagnosis is related to findings on different imaging modalities.
A flowchart for choosing the appropriate imaging modality in pulsatile tinnitus is provided.
Introduction and flowchart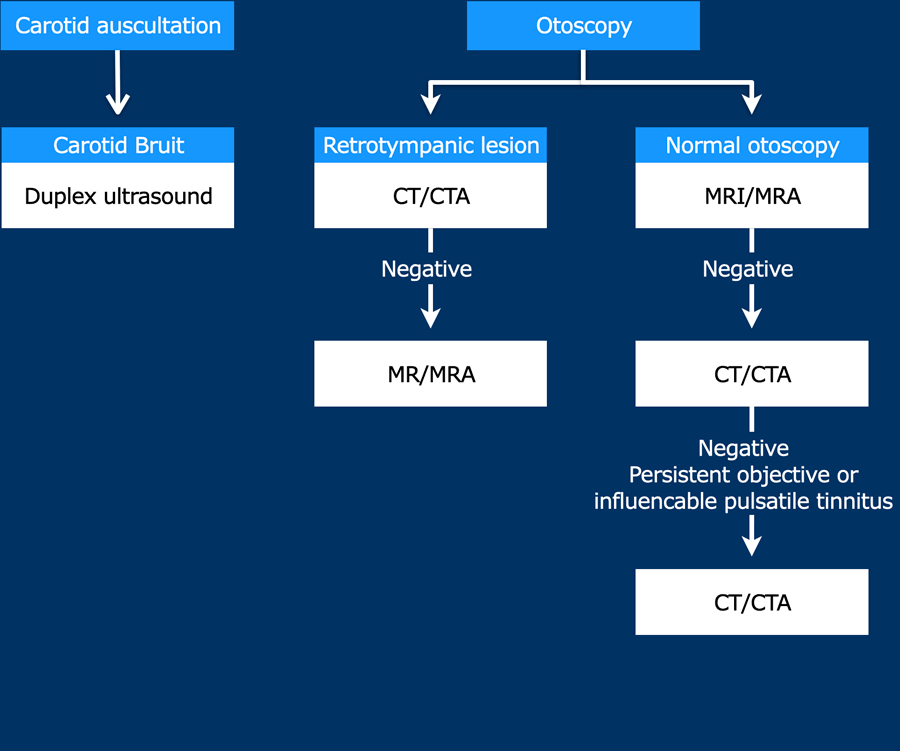 Tinnitus is defined as an auditory perception of internal origin, and can have a significant influence on the wellbeing and performance in daily activities of affected subjects.
In pulsatile tinnitus, the auditory perception is repetitively synchronous to the patient's heartbeat.
All other auditory perceptions are considered non-pulsatile.
Less than 10% of patients presenting with tinnitus have pulsatile tinnitus.
In about 70% of the cases with pulsatile tinnitus, an underlying cause can be identified by adequate diagnostic work-up as shown on the flow chart.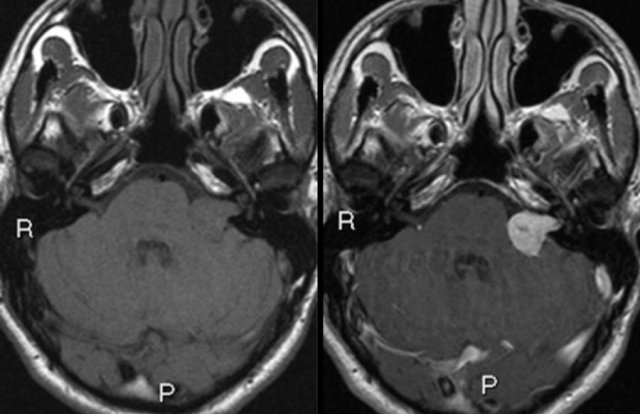 Left sided vestibular schwannoma. Axial non contrast-enhanced T1-W (left) and contrast-enhanced images (right).
Non-pulsatile tinnitus
Non-pulsatile tinnitus is almost always subjective.
Different underlying conditions relate to the development of non-pulsatile tinnitus, including cerumen impaction, middle ear infection, medications, noise-induced hearing loss, presbycusis or chronic bilateral hearing loss, hemorrhage, neurodegeneration, and spontaneous intracranial hypotension [2].
MRI is only recommended in patients with unilateral (non-pulsatile) tinnitus with focal neurological abnormalities, or asymmetric hearing loss [4].
The main purpose of diagnostic imaging is to identify or rule out a lesion in the cerebellopontine angle cistern, (e.g. vestibular schwannoma).
Labyrinthine abnormalities can be identified on MRI supporting the diagnosis of Ménière's disease [3].