Incidentalomas in the liver
What to do with incidentally found lesions in the liver?
Maarten van Leeuwen, Joost Nederend and Robin Smithuis
Radiology department of the University Medical Centre of Utrecht, the Leiden University and the Rijnland hospital, Leiderdorp, the Netherlands
Publicationdate
This review is based on a presentation given by Maarten van Leeuwen for the Dutch Radiology Society and was adapted for the Radiology Assistant by Joost Nederend and Robin Smithuis.
With the increasing use of multidetector CT small hepatic lesions are frequently depicted.
In many cases the pathological nature of these incidentally found liver lesions or incidentalomas is not known.
This results in a diagnostic problem, which is initiated by radiology so radiologists should take responsibility in correctly categorizing these lesions as to their clinical significance.

In this article we will discuss the management of two different type of incidentally found liver lesions:
lesions that are too small to characterise (TSTC lesions) in asymptomatic individuals and in patients with a known malignancy.
Hypervascular lesions.
TSTC (too small to characterize lesions)
Incidental hypervascular lesions
Differential diagnosis of Hypervascular lesions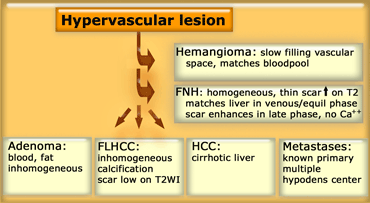 Work up
In the workup of incidentally found hypervascular lesions, we first have to decide whether the lesion is a hemangioma, because these are the most common lesions and usually have specific imaging findings.
If not, we have to find out whether it is an FNH.
For this differentiation we have to look at differences in enhancement pattern and differences in morphology like presence of a capsule, scar, calcification and inhomogeneity.
Hypervascular lesions most often can be characterized, even when small.
FNH and hemangiomas need no further investigation or treatment.
The preferred modality to characterize incidentalomas is MR, as it is better for lesion characterization and incidentalomas often occur in young females, where radiation burden should be minimized.
If HCC or FLHCC is considered further investigation is always needed.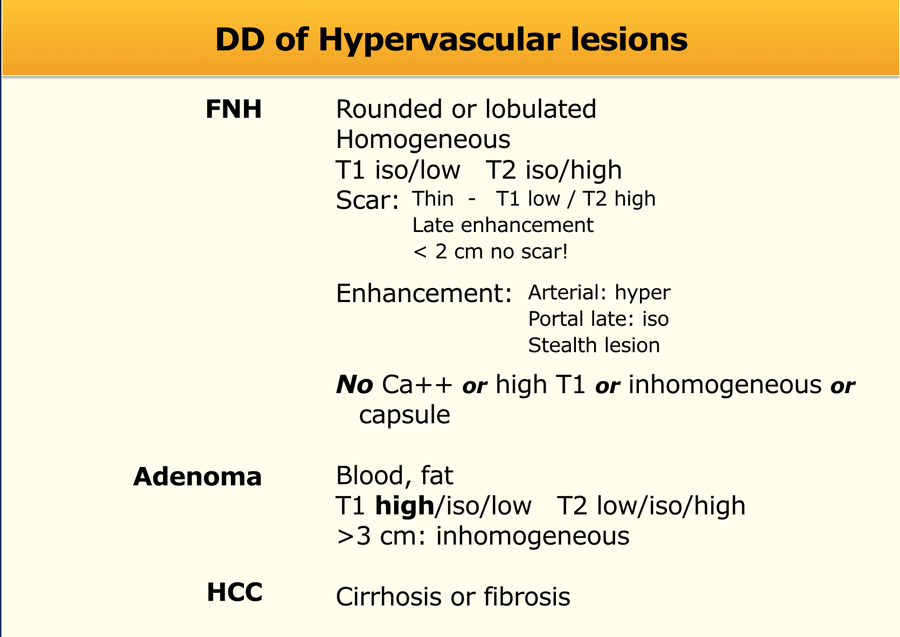 Differential diagnosis
In the table on the left we have summarized the typical findings in FNH, Adenoma and HCC.
Since FNH is so common, we have to get a clear mental picture of the many ways that these lesions present.
As radiologists we have a great responsibility here.
In FNH not all features have to be present, but there should be no calcification or high signal intensity on T1WI and the lesion should not be inhomogeneous or have a capsule.
Sometimes the term 'stealth lesion' is used to describe the phenomenon that some of these small FNH lesions are only seen in the arterial phase.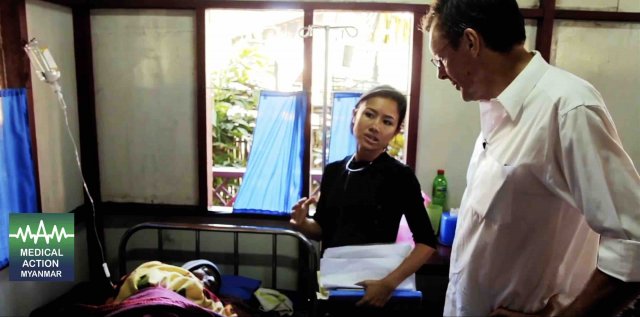 Charity

All the profits of the Radiology Assistant go to Medical Action Myanmar which is run by Dr. Nini Tun and Dr. Frank Smithuis sr, who is a professor at Oxford university and happens to be the brother of Robin Smithuis.
Click here to watch the video of Medical Action Myanmar and if you like the Radiology Assistant, please support Medical Action Myanmar with a small gift.