Non-traumatic Intracranial Hemorrhage
Amber Bucker, Henriette Westerlaan, Aryan Mazuri, Maarten Uyttenboogaart and Robin Smithuis
University Medical Center Groningen and Alrijne Hospital in Leiderdorp, the Netherlands
Any type of bleeding inside the skull or brain is a medical emergency.
The most common causes of hemorrhage are trauma, haemorrhagic stroke and subarachnoid haemorrhage due to a ruptured aneurysm.
Complications are increased intracerebral pressure as a result of the hemorrhage itself, surrounding edema or hydrocephalus due to obstruction of CSF.
In this article we will discuss non-traumatic hemorrhages.
They will be discussed by their location, because that is frequently the clue to the differential diagnosis.
Then we will discuss further imaging to get to a specific diagnosis.
Finally specific diseases that present with intracerebral hemorrhages will be presented in more detail.
Press ctrl+ for larger images and text on a PC or ⌘+ on a Mac.
Most images can be enlarged by clicking on them.
Localization of hemorrhage
Cerebral amyloid angiopathy (CAA)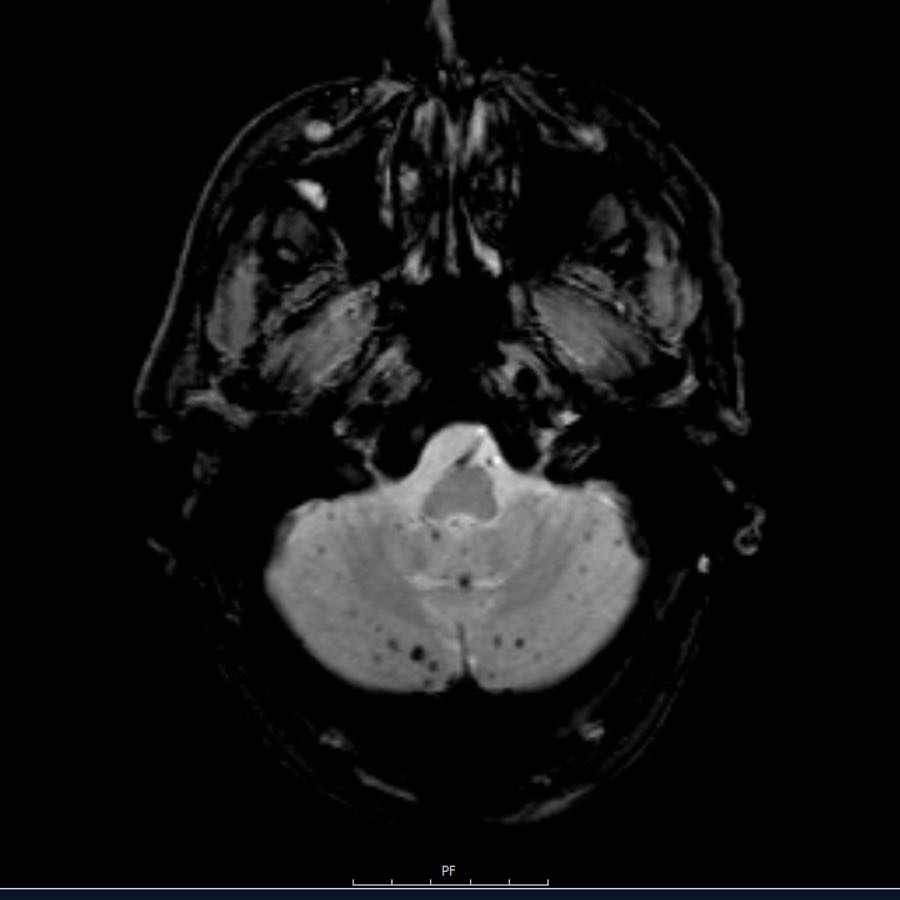 Cerebral amyloid angiopathy (CAA) is a disorder characterized by deposits of amyloid in the walls of the small leptomeningeal and cortical arteries resulting in leukencephalopathy and hemorrhage.
The hemorrhages can be divided in macrobleeds or lobar hemorrhages, microbleeds and subarachnoid hemorrhages that result in cortical superficial siderosis.
It is not associated with systemic amyloidosis.
The major symptoms are neurologic deficits, dementia and epilepsia.
The epilepsia is caused by the hemosiderin deposits near the cortex of the brain.
The major risk factor is increasing age.
These small hemorrhages are also called microbleeds.
Notice how numerous these small hemorrhages are and primarily located in the perifery of the brain.
This patient presented with a cerebellar hematoma.
Continue with the T1W-image...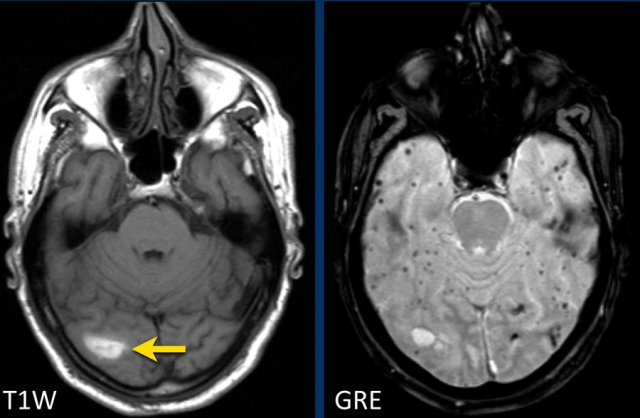 The T1W-image shows a hyperintense hemorrhage (arrow).
Hypertensive intracranial haemorrhage together with CAA make up 80% of the causes of intraparenchymal hematomas.
Think of CAA if you see multiple peripheral or lobar haemorrhages in an elderly patient.
Dutch type of hereditary CAA
The Dutch type of hereditary cerebral amyloid angiopathy is the most common form.
Stroke is frequently the first sign of the Dutch type and is fatal in about one third of people who have this condition.
Survivors often develop dementia and have recurrent strokes.
About half of individuals with the Dutch type who have one or more strokes will have recurrent seizures.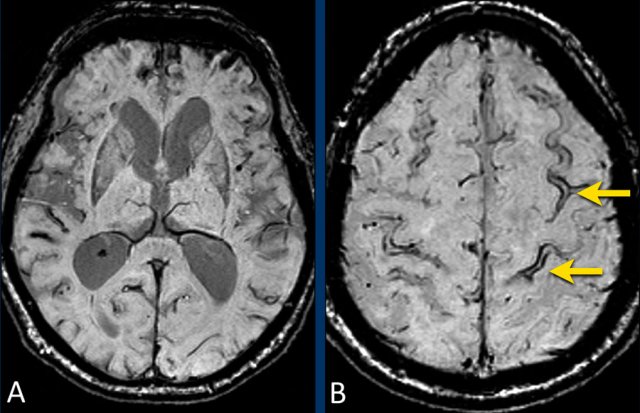 Cortical superficial siderosis in CAA
CAA-related bleeds include:
Macrobleeds - symptomatic lobar hemorrhages

Microbleeds - small and typically silent peripherally located
Cortical superficial siderosis (cSS) - cortical subarachnoid hemorrhages that follow the curvilinear shape of the surrounding cerebral gyri

In superficial siderosis the proximity to the cortical surface appears to be the trigger for transient focal neurologic symptoms or amyloid spells.
CAA patients with widespread cortical superficial siderosis have a far greater chance for recurrent hemorrhage compared to patients without cSS (ref).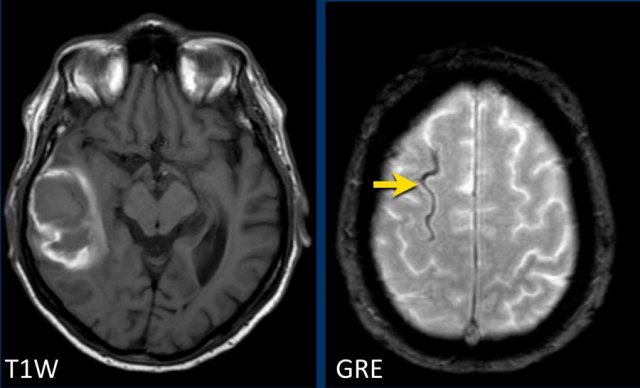 Lobar hemorrhage in Cerebral Amyloid angiopathy (CAA)
This patient with CAA presented with a large lobar hematoma in the right temporal lobe.
Notice the superficial siderosis (arrow).
Venous infarction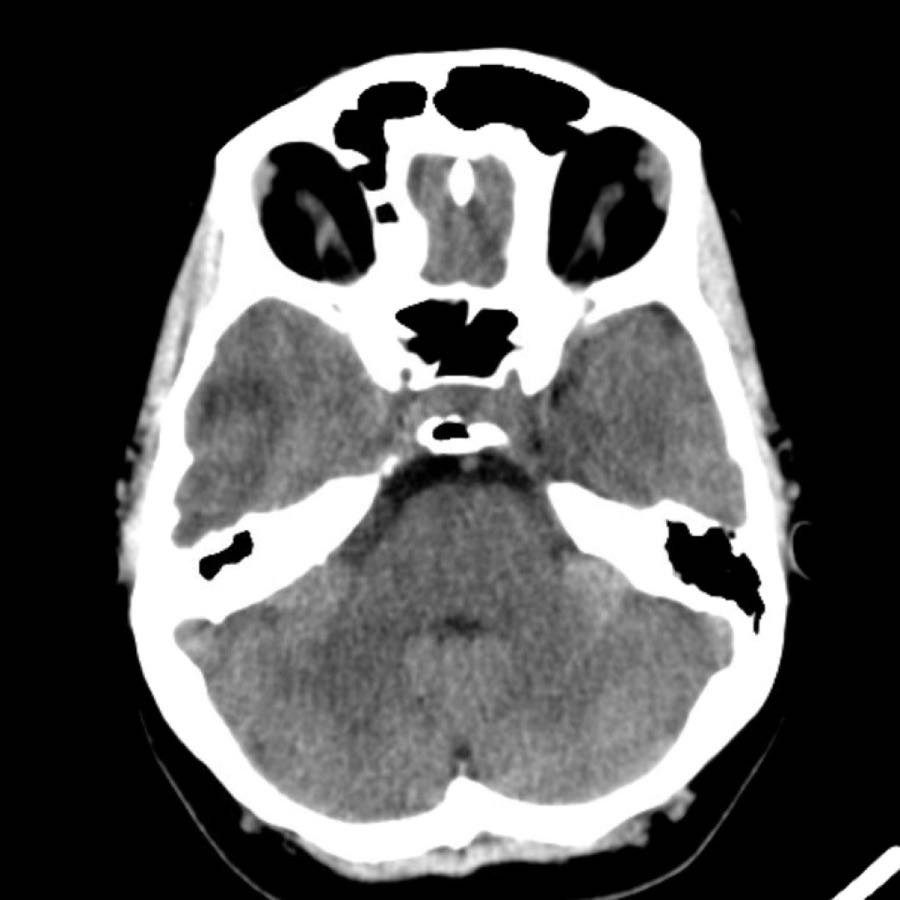 Whenever you see a hemorrhagic infarction, always think of the possibility of a venous infarction like in this case.
When you scroll through the images, you will notice the thrombus in the right transverse sinus (arrowheads).
Arteriovenous Malformation
Dural arteriovenous fistulas (dAVF)
Cavernous malformation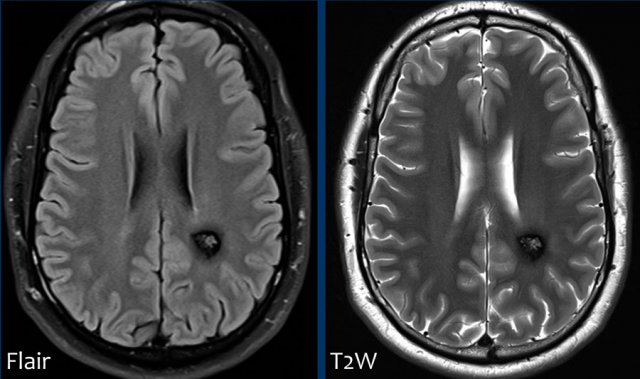 A cavernous malformation, also called cavernoma or cavernous hemangioma, is a vascular hamartoma.
It is a benign mass composed of immature vessels.
Cavernomas may be congenital, but usually form during life.

Patient may be asymptomatic or present with intracranial haemorrhage. Patients of any age may present with a cavernoma.
A cavernous malformation is composed of immature vessels and may bleed.
Imaging may depict various stages of bleeding.
This example shows the typically appearance on MRI named "popcorn lesions": a complete hemosiderin ring surrounding a heterogeneous lesion.
They are usually located supratentorial, but may less commonly present in the pons or cerebellum.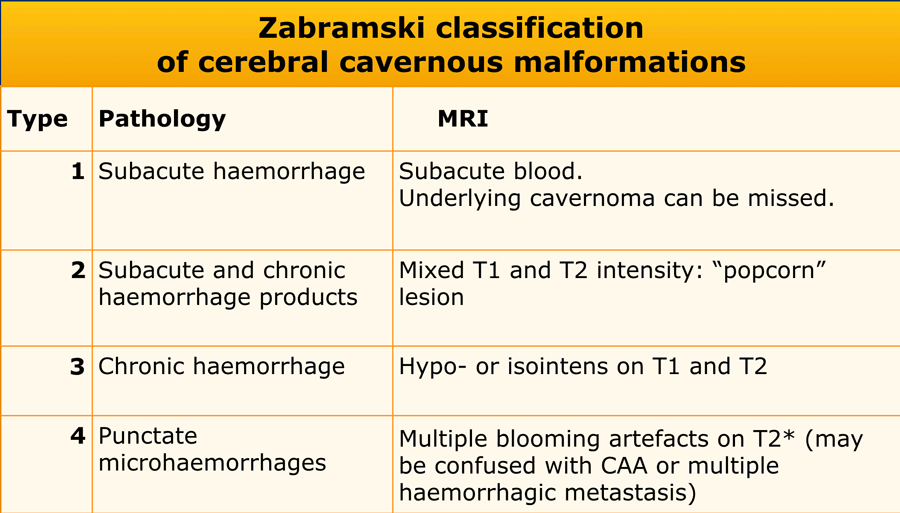 The Zabramski classification has been proposed as a way of classifying cerebral cavernous malformations, and although not used in clinical practice it is useful in scientific publications that seek to study cavernous malformations.
On non-enhanced CT cavernomas are only seen when:

They are very large - blood products may be hyperdens.

In recent bleeding

When they are calcified.

Infarction with hemorrhagic transformation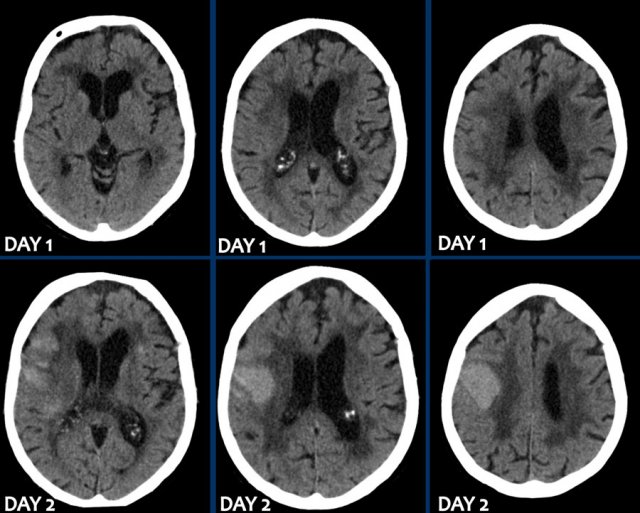 Lobar hemorrhage in hemorrhagic infarction
This patient came to the emergency department with a left-sided hemiplegia and dysarthria.
These symptoms quickly diminished and when they decided to dismiss the patient, the symptoms came back suddenly.
It was diagnosed as an acute infarction in the area of the right middle cerebral artery.
Thrombolytic therapy was started right away.
The next day the patient got worse and the second CT-scan showed a large hemorrhagic infarction in the right acm area.
The next day this patient died.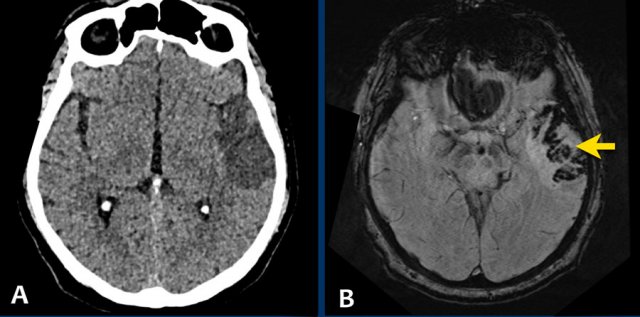 This patient was submitted to the stroke unit with a recent infarct in the left MCA territory.
Due to delay in presentation outside the thrombolytic window, no thrombolytic therapy was given.
A follow-up NECT (image A) was ordered because of clinically deterioration and showed a well demarcated hypodense area in the left MCA territory. In the hypodense area, very small subtle hyperdens foci were depicted.
MRI several hours later the same day showed foci of hemorrhage (arrow) indicating petechial hemorrhagic transformation of the ischemic infarct.
Hemorrhagic metastases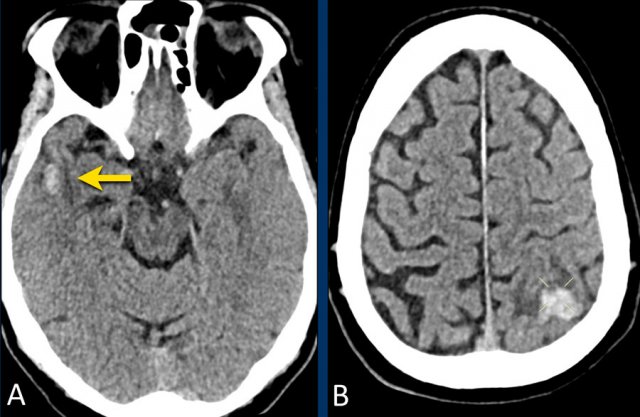 This cortically located location at the grey-white matter junction is typical of hematogenously metastatic spread.
They usually follow flow-dynamics: 80% anterior circulation vs. 20% posterior.
Metastasis can become so large, that when they bleed, they present as a focal lobar hemorrhage.
50% of hemorrhagic metastases present as a solitary lesion and the other half presents as two or more lesions.

The most common hemorrhagic metastases are:
Melanoma - 50% present with hemorrhagic metastases
Renal Cel Carcinoma

Choriocarcinoma

Lungcarcinoma

Breast carcinoma

Thyroid carcinoma

Retinoblastoma
Hemorrhagic Brain tumor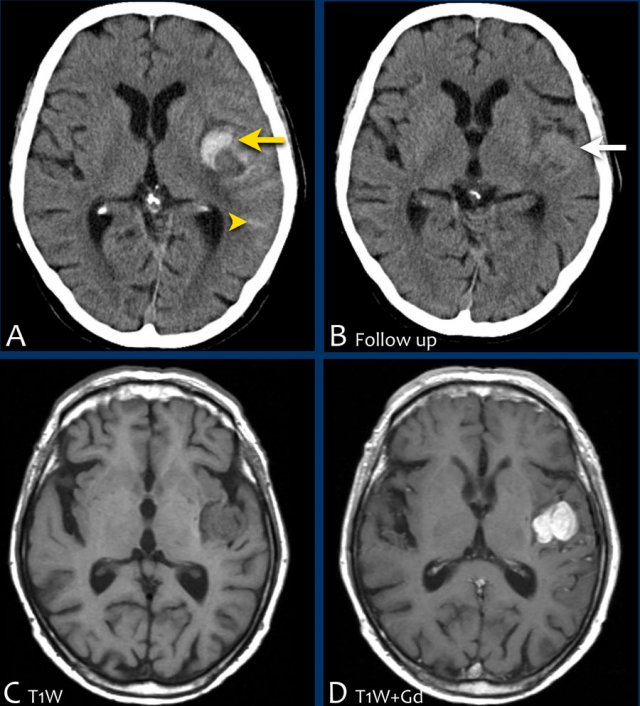 Intratumoral hemorrhage
The glioblastoma (GBM) is the most common primary brain tumour to show intratumoral haemorrhage.
In oligodendrogliomas haemorrhage occurs in 20%.
An other common known acute presentation of intratumor haemorrhage is apoplexia due to bleeding in a hypophyseal macroadenoma.
The CT-images show:
Lobar hemorrhage on a NECT.
There is also some subarachnoid blood.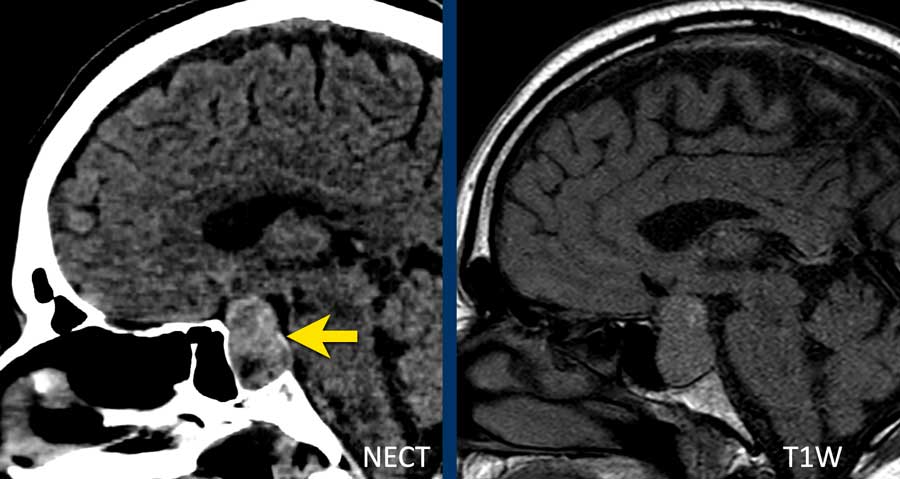 Pituitary Apoplexia
This patient presented with sudden headache, nausea and vomiting.
He had ptosis of his left eye.
The images show a pituitary macroadenoma with extension into the cavernous sinus.
Note the subtle hyperdensities in the tumour (arrow).
On a T1W non-enhanced image there is mild hyperintensity posteriorly and cranially in the tumor.
These findings suggested intratumoral hemorrhage, which was confirmed at surgery.