32 cases of suspected COVID-19
Imaging findings and follow up
Frank Smithuis and Robin Smithuis
Academical Medical Center Amsterdam and Alrijne Hospital Leiderdorp, the Netherlands
Publicationdate
The role of CT in this COVID-19 pandemic still has to be determined.
CT can help to determine the severity of the disease and is a valuable and fast tool to determine whether a patient is infected by COVID-19 or not.
This can help to keep patients with a high suspicion of COVID-19 infection separate from patients with other diseases, especially when the PCR-test is false negative.
These cases are all patients that were admitted to the hospital with suspicion of COVID-19 infection and all were PCR-tested.
The findings at presentation and follow up is provided.

In the description we use the CO-RADS classification.
Press ctrl+ for larger images and text on a PC or ⌘+ on a Mac.
This can be helpful for scroll-images.
Single images can be enlarged by clicking on them.
Introduction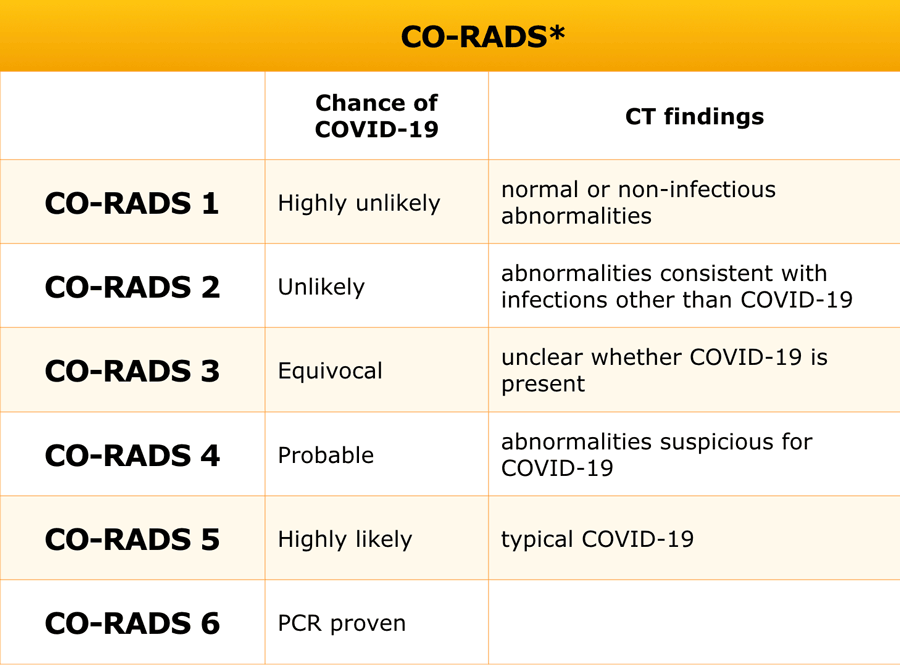 The CO-RADS classification is a standardized reporting system for patients with suspected COVID-19 infection developed for a moderate to high prevalence setting.
It is a preliminary classification of likelyhood of COVID-19 infection as proposed by the COVID working group of the Dutch Radiological Society.
The interpretation of the CT findings has to be combined with the clinical symptoms and the duration of the symptoms as a CT can be negative in the first few days of a mild infection.
However most patients that we see have complaints for a week or more.
At the moment most patients that are admitted to the hospital either have a CORADS 5, which means that they have a COVID-19 infection or they have a CORADS 1 or 2, which means no COVID-19 infection.
Imaging Findings in suspected COVID-19