Bone tumors - Differential diagnosis
Henk Jan van der Woude and Robin Smithuis
Radiology department of the Onze Lieve Vrouwe Gasthuis, Amsterdam and the Alrijne hospital in Leiderdorp, the Netherlands
Publicationdate
In this article we will discuss a systematic approach to the differential diagnosis of bone tumors and tumor-like lesions.
The differential diagnosis mostly depends on the review of the conventional radiographs and the age of the patient.

Abbreviations used:
ABC = Aneurysmal bone cyst
CMF = Chondromyxoid fibroma
EG = Eosinophilic Granuloma
GCT = Giant cell tumour
FD = Fibrous dysplasia
HPT = Hyperparathyroidism with Brown tumor
NOF = Non Ossifying Fibroma
SBC = Simple Bone Cyst
Spine lesions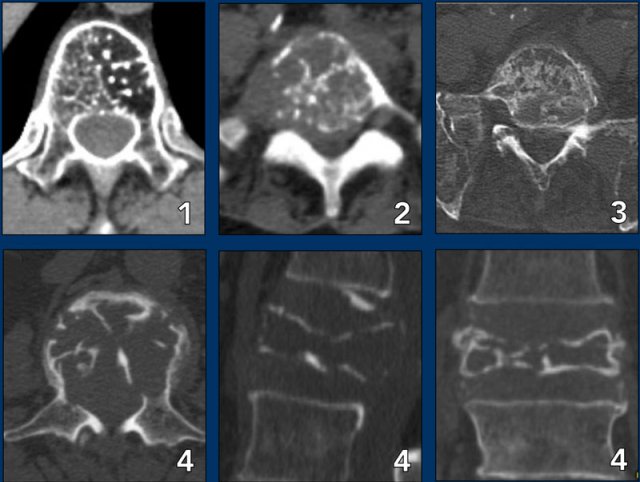 Here some typical examples of bone tumors in the spine.


Hemangioma.
Metastasis.
Multiple myeloma.
Plasmocytoma: vertebra plana.
This 'Mini Brain' appearance of plasmacytoma in the spine is sufficiently pathognomonic to obviate biopsy (9).