Peritoneal Pathology
Angela Levy
Chief Gastrointestinal Radiology, Department of Radiologic Pathology, Armed Forces Institute of Pathology, Washington DC Associate Professor of Radiology, Uniformed Services University of the Health Sciences, Bethesda, MD
Publicationdate
This review is based on a presentation given by Angela Levy and adapted for the Radiology Assistant by Robin Smithuis.

We will discuss the differential diagnosis of cystic and solid peritoneal and mesenteric masses.
In Peritoneum and Mesentery - part I: Anatomy
the normal anatomy and physiology of the peritoneum and peritoneal cavity are discussed.

You can click on images to get an enlarged view.
by Angela Levy
Differential Diagnosis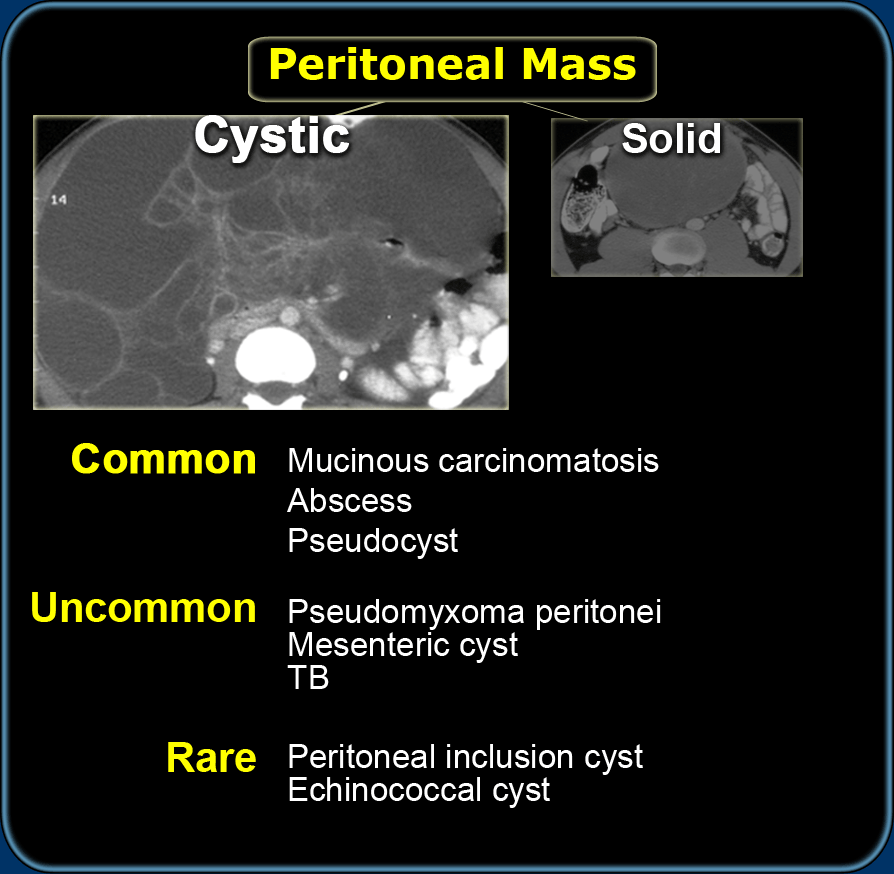 Differential diagnosis of cystic peritoneal masses
Cystic masses
The first step when diagnosing peritoneal or mesenteric masses is to separate them into cystic and solid.
Secondly we have to realize that any loculated fluid collection due to infection, i.e. abscess or as a result of pancreatitis, perforation or bile peritonitis can simulate a cystic mass.
Especially fluid collections in the lesser sac can simulate a cystic mass.
Lastly we have to know which cystic masses are common and look for specific features of these masses.


Mucinous carcinomatosis
is the most likely diagnosis of cystic peritoneal masses.
Pseudomyxoma peritonei
is less common, but looks quite similar to peritoneal carcinomatosis.
Mesenteric cyst
Lymphangioma is the most common mesenteric cyst.
Other mesenteric cysts like enteric duplication cyst, enteric cyst, nonpancreatic pseudocyst and mesothelial cyst are very uncommon and have no specific features.
Peritoneal inclusion cyst
is a less common benign primary peritoneal tumor.
It is also known as benign multicystic mesothelioma.
This name is very confusing since there is no relation with the malignant mesothelioma. It is seen in women with prior gynaecological surgery or infection.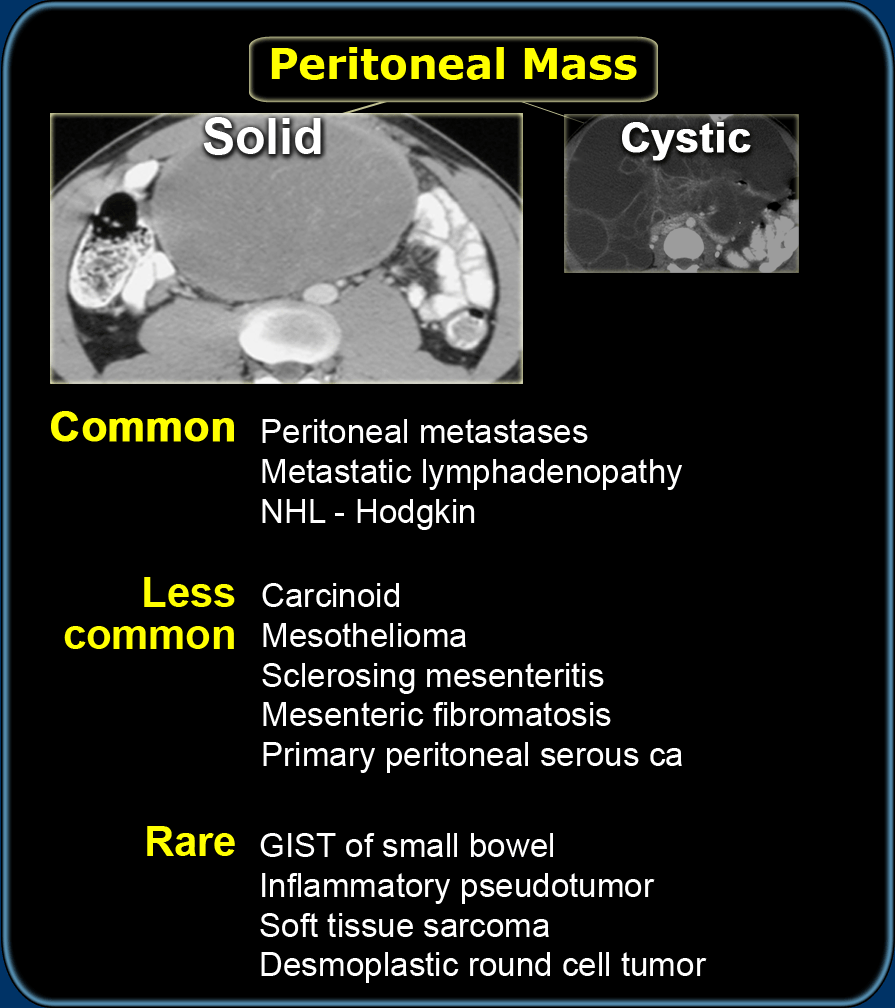 Differential diagnosis of solid peritoneal masses
Solid masses
Peritoneal carcinomatosis
Is the most common peritoneal solid mass resulting from ovarian or gastrointestinal cancer.
Usually there are omental metastases, i.e. omental cake and ascites.
NHL and lymph node metastases
Are the most common diagnoses of a mesenteric mass.
NHL is the most common cause of lymphadenopathy and usually there are other sites with lymphoma.
Carcinoid
Presents as a spiculated mesenteric mass often with a central calcification. It metastasize to the liver.
There is associated bowel wall thickening due to a desmoplastic reaction.
Sclerosing mesenteritis
May look like carcinoid.
There is a wide spectrum of presentations ranging from an infiltrative solid mass to the more common accidental finding also known as mesenteric panniculitis, which presents as a lipomatous mass, usually with no clinical implication.
Mesenteric fibromatosis
Is also known as intraabdominal fibromatosis, abdominal desmoid or desmoid tumor.
It is a locally aggressive tumor which often recurs but does not metastasize.
It can have a myxoid stroma resulting in a low attenuation on CT and a high attenuation on T2WI.
Mesothelioma
Accounts for 20% of all mesotheliomas and is associated with asbestos exposure and pleural plaques.